ROCKFORD (WREX) — As severe weather exits the area we see a shift in seasons tomorrow and through the end of the week. 
Dry evening:
After a very warm and humid day, temperatures have finally begun to fall for some areas. We did see some severe weather roll into the area this afternoon and if you didn't see any showers temperatures will still remain rather warm tonight. Clouds start to give way to clear skies tonight with temperatures in the upper 60s to low 70s. 
Tomorrow will be our transition from summer to fall as we see a cold front passes dropping temperatures into fall.
Feeling like fall: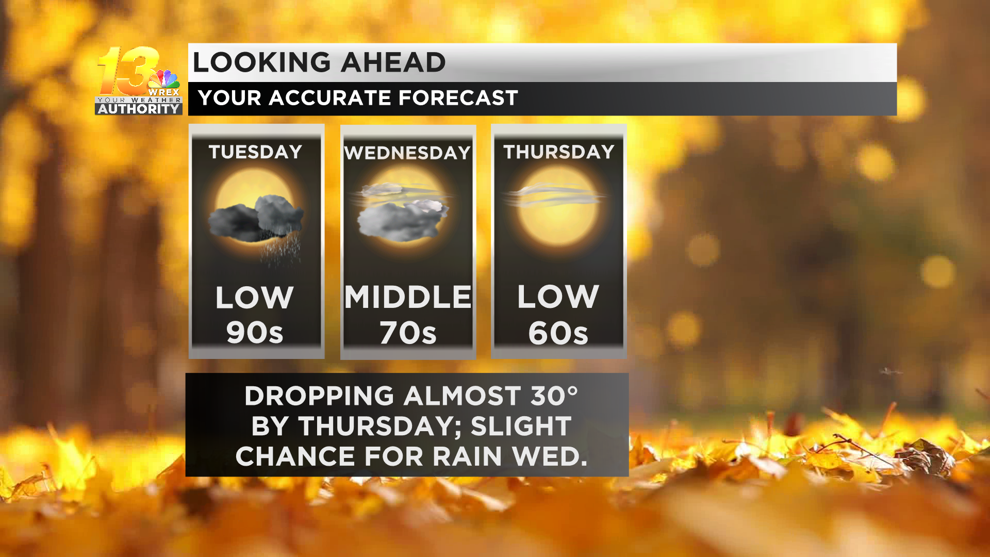 For the mid week we will see mostly sunny skies and a slight chance for a shower into the afternoon, mainly along I- 80. Temperatures will stay in the mid 70's for the day with a breezy north west wind. 
After the frontal passage temperatures will start to plummet into the upper 40's to low 50's for most of the area especially right along the WI/IL border. 
Thursday, the first day of fall, will actually feel like fall as temperatures struggle to warm into the 70's for the day with sunny skies and breezy conditions. Overnight, skies remain partly cloudy and cool in the low 40's again. Similar conditions are expected for Friday, sunny skies with temperatures in the low 60s for the day, dropping into the upper 40's to low 50's for the overnight hours. 
Temperatures warm back up into the 70's for Saturday but we return to cooler temperatures ahead. Overall, we remain dry for the rest of the week and into the weekend.