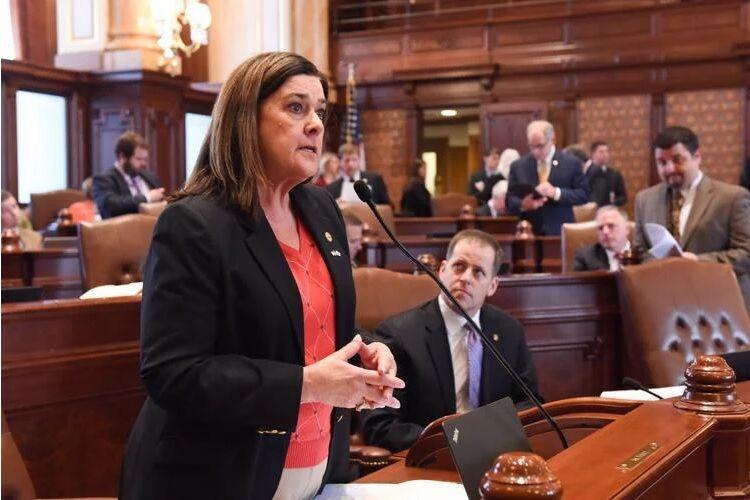 There's no one to field complaints against state lawmakers in Springfield. The office of the Legislative Inspector General is vacant once again.
Despite having known for months the office of the Legislative Inspector General would be vacant, Illinois state lawmakers failed to advance a replacement when they were in session Wednesday.
This will be the second vacancy in the office since a multi-year vacancy was revealed in 2017 at the height of the MeToo movement.
Fingers are pointing from across the political aisle for why there's not been a replacement brought forward for Carol Pope. Pope announced more than six months ago she was leaving the post because lawmakers have constrained the office from being able to independently investigate claims against lawmakers.
An independent search committee appointed by legislative leaders had several potential candidates to replace Pope, but the candidates haven't advanced out of the Legislative Ethics Commission. That's the bipartisan group of lawmakers and a former lawmaker that oversees the inspector's office.
Pope's original departure date was Dec. 15, but after lawmakers failed to address the issue in the fall session, she agreed to stay on until Jan. 6, the end of the first week of session this month. However, lawmakers were only in on Wednesday. They canceled Tuesday and Thursday session days.
State Sen. Jil Tracy, R-Quincy, who chairs the Legislative Ethics Commission that oversees the inspector's office, said the Democratic majority has stifled the process to get a replacement and complaints will go nowhere.
"Here we are without an inspector general and even more troubling [Senate President Don Harmon, D-Oak Park] we don't even know when the General Assembly or the Senate is going to reconvene," Tracy said.
Commission member state Sen. Cristina Castro, D-Elgin, said in a statement that it's Republicans that blocked votes on potential candidates.
"If not for those actions, we could have had a new inspector general in place," Castro said.
Tracy said that's not true.
"[Democrats] wanna just overlook a public advisory group's recommendation that's in place to be the impartial eyes of the public," Tracy said.
Tracy's criticism of the Democratic supermajority not prioritizing finding a replacement for the watchdog's office also found a response from the leading House Democrat on the LEC.
"Democrats have sought to advance two candidates for final selection, both of whom have been deemed qualified by the search committee and the LEC," said state Rep. Kelly Burke, D-Evergreen Park. "Republicans have blocked that effort, insisting on only advancing their preferred candidate."
Internal conversations of the LEC are privileged. Tracy wants legislation to make the commission more transparent so there's more accountability and not a he-said, she-said situation.
All previous LIGs have said the office has no teeth to independently investigate claims of wrongdoing by lawmakers. Tracy says Republicans have tried to advance legislation to give more independence and even subpoena power to the inspector to assist in investigating claims.
A cumulative report for 2021 from the inspector's office found there were a total of 47 complaints received, six investigations were initiated. Seven were concluded. Four were referred to any law enforcement agency and nine were referred to another investigatory body.
With no inspector, complaints won't be investigated.
"Senator Tracy is right on one thing, the people of Illinois deserve better," Burke said.